Credit Application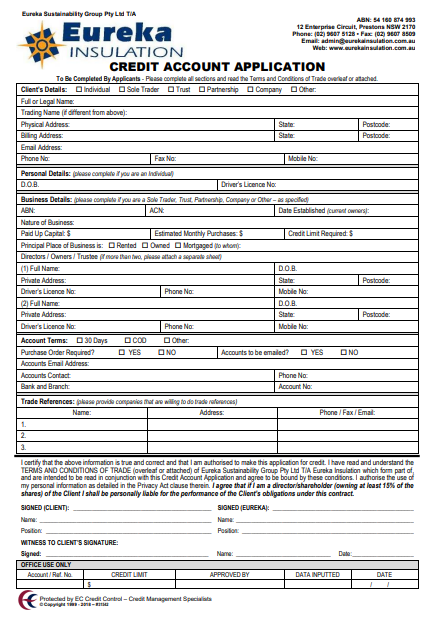 Thank you for choosing to apply for a credit account with Eureka Sustainability Group Pty Ltd
This online access has been provided so we can process your application as quickly as possible.
Please note, your credit application is processed via our credit Insurer National Credit Insurance (Brokers) Pty Ltd. All Rights Reserved.
License number 233817 ~ ABN: 68 008 090 702 ~
To complete your application, we will ask for the following information to be provided:
Your ABN or ACN
Photo ID of the person filling in the application (see link for details)
A Deed of Guarantee will be required in certain circumstances (see link for details)All credit applications are subject to review and are processed in 3-4 business days.
If you require any assistance with your application, please contact our accounts department on 02 9607 5128.
CLICK HERE To Download Credit Account Application